GIRO (Gabriola Island Recycling Organization) is a self-funded, non-profit recycling organization established in 1991.
GIRO provides a recycling service for many materials, sells a range of materials for reuse, sells donated items inexpensively, provides education programs to the local school, encourages environmentally responsible community practices, and supports local community organizations. It is run by paid staff, volunteers, a board of directors, students and members.
Latest GIRO news
Checkout our most recent initiative: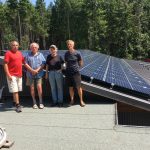 57 Solar Panels Installed On GIRO's Roof
The array of panels will produce clean energy for thirty years and is the equivalent carbon offset of planting 325 trees a year.