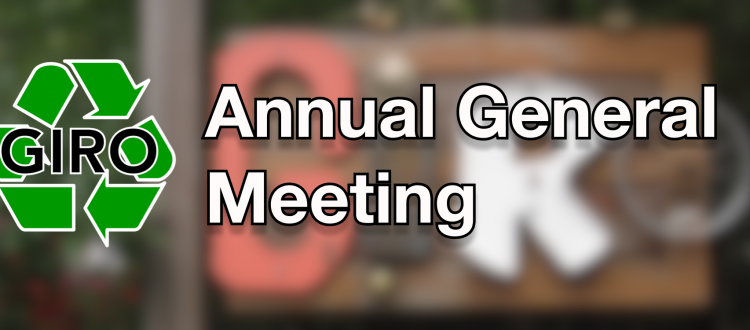 Annual General Meeting Oct. 15 2020
GIRO AGM : Thursday October 15th at 4PM and will be held via ZOOM. Connection details are below.
When
Thursday, October 15th at 4PM PST
Zoom Meeting ID
882 2780 9912
Zoom Meeting (Web)
https://us02web.zoom.us/j/88227809912
Zoom Meeting (Phone)
Any of these should work, provide the meeting ID when prompted:
+1 778 907 2071
+1 204 272 7920
+1 438 809 7799
+1 587 328 1099
+1 647 374 4685
+1 647 558 0588
AGM Agenda (PDF)
Download PDF
Annual Report (PDF)
Download PDF
The Gabriola Island Recycling Organization (GIRO) Annual General Meeting (AGM) will be held via ZOOM Thursday October 15 at 4 pm. Meeting coordinates and pertinent information will be provided by e-mail and posted at GIRO and on this page prior to the AGM.
To vote at the meeting, you must be a current member of GIRO. Due to COVID, all individuals who were members in good standing in 2019 will be in good standing until Dec 31 2020. If you are not a member or your membership was not renewed in 2019 or 2020 and you wish to participate, please submit a "new membership" application form. Non-members may attend but cannot vote.
Membership forms can be picked up at GIRO or a copy printed off from the GIRO website.
Fees are $2 per person / yr. The form and fee may be given to Michelle MacEwen at the GIRO depot or mailed:
David Swanson
GIRO Secretary of the Board
720 Horseshoe Rd,
Gabriola, BC
V0R 1X3
The Board of Directors, GIRO