GIRO's costs increasing as recycling industry struggles to find end markets
For almost thirty years it has been sustainable for recycling facilities and processors to collect, sort, transport and turn commodities like paper, cardboard, glass, metals and plastics back into raw materials. Recycling diverts a material from the landfill, and from polluting the ocean. Recycling also creates a circular economy whereby a material can be recycled over and over without depleting its properties. This continues the life of valuable non-renewable resources like steel, copper, aluminum, glass and plastics, and reduces the need to mine for virgin resources.
For the last three decades the majority of the world's recycling was shipped to China until January 2018 when China declared that they would no longer be accepting the world's low-grade contaminated plastics, mixed paper and cardboard. This threw the world's recycling industry into turmoil as material recovery plants scrambled to find alternative end markets to send commodities to. Since China closed its doors the costs to process mixed paper, cardboard, mixed plastics and soft plastics has been steadily increasing.
The following blue box recyclables (plastics, paper and cardboard) that Islanders drop off at GIRO are prepared for transportation and taken off island by GIRO to Cascade Recovery at Duke Point. Cascade ship the plastics to West Coast Plastics and Merlin Plastics, both of which are in Vancouver. Due to the glut in the market of low-grade plastics GIRO currently pay $185 PMT (per metric tonne) to Cascade to ship this material. The only plastics with any value at this time are clear and coloured HDPE (High Density Polyethylene). These include containers such as milk jugs and laundry detergent containers which GIRO is paid $300.00 and $150.00 PMT respectively.
We are currently paying $47.00 PMT for cardboard which is now shipped to overseas markets, mainly India and Thailand. The contamination regulations are extremely strict for this material and quite often the freight is not accepted due to high moisture levels. When materials are contaminated, Cascade are charged for the return shipment.
The mixed paper is also running at a loss $-144.00 PMT. It is shipped to CKF in Vancouver who process it into cup holders for takeout cups and egg cartons. As there is also a glut in the market of mixed paper, Cascade pay CKF to take this material off their hands.
Total costs to GIRO for these materials year to date is $2,900.00.
With Christmas on the horizon the mixed paper value will plummet as paper products (wrapping paper and Christmas cards) flood the marketplace. This will trickle down and impact our costs here at GIRO.
Solutions
When I think about solutions, I prefer to aim for those that are real "game changers" rather than "quick fixes".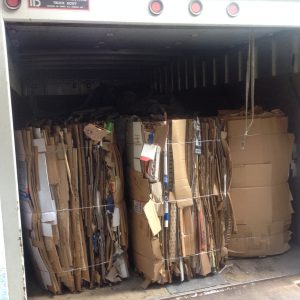 A quick fix would be to suggest that instead of bringing your mixed plastics, paper and cardboard to GIRO, you put them curbside for the RDN to collect and process, thus saving GIRO the current costs for handling the material. However, I don't see this as a real solution. Yes, it is out of sight, out of mind, but those materials are still going somewhere: recycling, landfill, and perhaps incineration!
Let me make one thing absolutely clear: Recycling is not going to save the planet!
Recycling is the end result of something you purchased that needs to be dealt with responsibly. It has some merits that I have mentioned at the beginning of this article, but it still requires energy to sort, transport and process therefore contributing to global warming.
Last week saw the biggest climate strike worldwide with over seven million people calling for action on the climate crisis. More and more people are recognizing that we are indeed in a crisis and yet still we continue with our daily habits that perpetuate the warming of the planet.
A real solution is to Rethink and Reduce our consumption of these materials.
Behaviour changes are the most powerful thing you can do to reduce your personal carbon footprint.
What does it mean to Rethink and Reduce? Start with the small easy stuff that we can all do:
Buy in bulk using your own reusable containers
Always bring your own travel mug and refillable water bottle when you leave home
Keep the following in your bag when heading out: reusable cutlery, cloth napkin, reusable container and cloth shopping bags
Go paperless with all your bills
Let the Post Office know you don't want to receive any junk mail/flyers
Separate your photocopy paper from your glossy paper, envelopes and magazines. The photocopy paper has value when you bring it to GIRO.
Take a good hard look at what you buy from the store that is packaged in plastic and question whether you need it or if there is an alternative that is not packaged, or in glass/metal.
Demand to see alternatives in stores as well as write to manufacturers for a change in packaging. As long as we continue to buy and use plastic (fossil fuels) as a packaging material, we are supporting global warming
Shop at local farmers markets
Buy second-hand everything
Buy less stuff. Be content with less, choosing experiences over stuff. Teach your children the same values
Walk, bike, take Gertie, carpool
Write to your local, provincial and federal government demanding change on regulations for plastic manufacturing
Now more than ever before, we all need to take a long hard look at our daily habits and question whether we are contributing to the problem or are making choices that can bring about real change.
Visit GIRO on Wednesdays and Saturdays to talk to one of our recycling staff about how to Rethink and Reduce.
Let's create real solutions together !