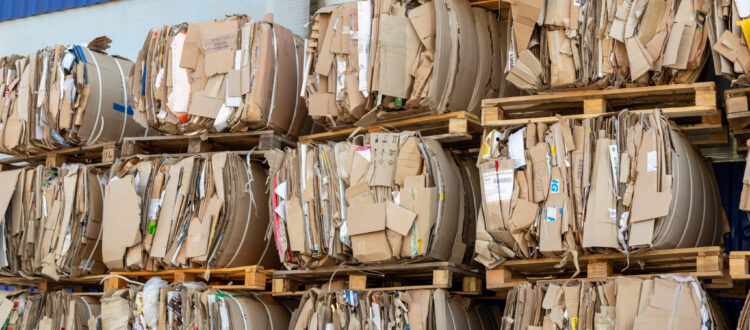 New drop-off fees for cardboard commencing December 14th
We're all familiar with cardboard and its variations (boxboard and brown paper bags). Foods like cereal, pasta, cookies, frozen foods, takeout, and eggs come encased in cardboard. Consumer goods, whether we're shopping at local retailers or online (electronics, appliances, footwear etc.) are almost always boxed in paper-based packaging. In BC, shops have been replacing plastic bags with brown paper options.
When you bring cardboard to GIRO, it's compacted into bales by our recycling team and transported to Cascade Recovery at Duke Point. We offload approximately 14 bales (275 lbs each) per week. This discarded packaging is then sold to recycling companies who create post-consumer paper packaging. The value of cardboard per metric tonne (pmt) has always fluctuated relative to the global market for packaging, ranging between $0 – $25 pmt.
Until now.
Due to rising interest rates, rumours of recession and a reduction in consumer spending, there has been a dramatic drop in material commodity prices, specifically cardboard and paper products. In the last three months, the price for cardboard has dropped from $10 pmt to -$153.00 pmt.
That's right – getting rid of Gabriola's cardboard now COSTS GIRO money. The Depot has regular operational costs associated with recycling, like staffing and material transportation expenses, however until now, we could offset those in part through the sale of cardboard. Now, we need to pay to get our community's cardboard off the island. The bill for October for cardboard alone was $900.00.
Brokers in BC who follow cardboard as an economic indicator (packaging correlated with consumer spending) predict the current cost of disposal (-$153.00 pmt) will continue into the negative until at least spring 2023.
How You Can Support GIRO:
Put as much of your cardboard as possible in your curbside recycling bin.
If you are bringing flattened cardboard to GIRO, we will ask you for a minimum $5.00 fee and up to $20.00 for larger volumes to help us offset this new expense.
Five Easy Ways to Reduce Cardboard Consumption on Gabriola
Buy second-hand. GIRO's ReStore and other thrift shops are naturally package-free!
Bring a reusable shopping bag. If you're prone to forgetting, we suggest a one-of-a-kind ReLove Local denim tote! These works of art are handmade from our community's discarded textiles. Find ReLove Local at Nova, and the GIRO ReStore.
Dine in at local restaurants and cafes and/or bring your reusable containers and mug for takeout
Consider packaging when making your purchase decisions. Local retailers like Nature Spirit Earth Market offer minimally packaged and bulk goods. Bring your own clean container and ask about package-free options!
Reuse your cardboard. Make a cat's day! Build a fort! Lay a lasagna compost in your garden!
Which of these strategies to reduce cardboard consumption can you commit to trying? Do you already keep packaging in mind? Especially as we head into holiday hosting and gifting time, we hope you keep in mind the hierarchy of green: Rethink, Refuse, Reduce, Reuse, then Recycle. We prefer recycling to the landfill, but because it uses water, energy, and other resources, it should follow the other Rs.
If you have any questions about these new costs, please speak to Michelle or the recycling crew.
Thank you for your continued support.
Michelle Kresnyak